Countertop Terminals

&

PIN Pads
The Vx 520 handles encryption, decryption and processing at lightning speeds thanks to its powerful processor and expandable memory. Integrated NFC capabilities support alternative payments (Apple Pay) and also supports value-added applications such as loyalty or gift card acceptance.
A full range of connectivity options, from Dial to Dial plus Ethernet.
Enhanced with a redesigned ergonomic grip, it's easy to hold. The oversized keys minimize entry errors and speed up the payment process. The PIN pad 1000SE is a cost-effective and future-proof payment solution – and it's the ideal drop-in  replacement for a previous PIN-based device.
Verifone's VX 805 Contactless PIN pad allows merchants to process a range of transactions through multiple connectivity  options, while offering the latest NFC technology for mobile payments and includes the latest security protections.
PAX's S80 combines innovation­, durability and high performance to assure faster, more reliable transactions. An intuitive ATM-style interface and ergonomic keypad make operation easier for merchant and consumer alike. The S80 comes with built in contactless and a powerful processor, enabling support for multiple payment and value-added
applications.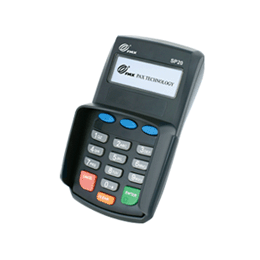 PAX's SP20 offers PCI security, an ergonomic design and elegantly integrated privacy shield. The SP20 is a plug-in compatible replacement PIN pad with a variety of connection options to work in any POS system. The tactile, visual and audio feedback keypad minimizes entry errors and speeds up the payment process.
The SP20 features a large and easy-to-read display, and customers clearly confirm the entered amount for secure transactions.